This was an old favourite of ours and our customers. Unfortunately, due to the method of creating this healthy, filling soup we could no longer make it as we grew. So now, it is your's to make at home 🙂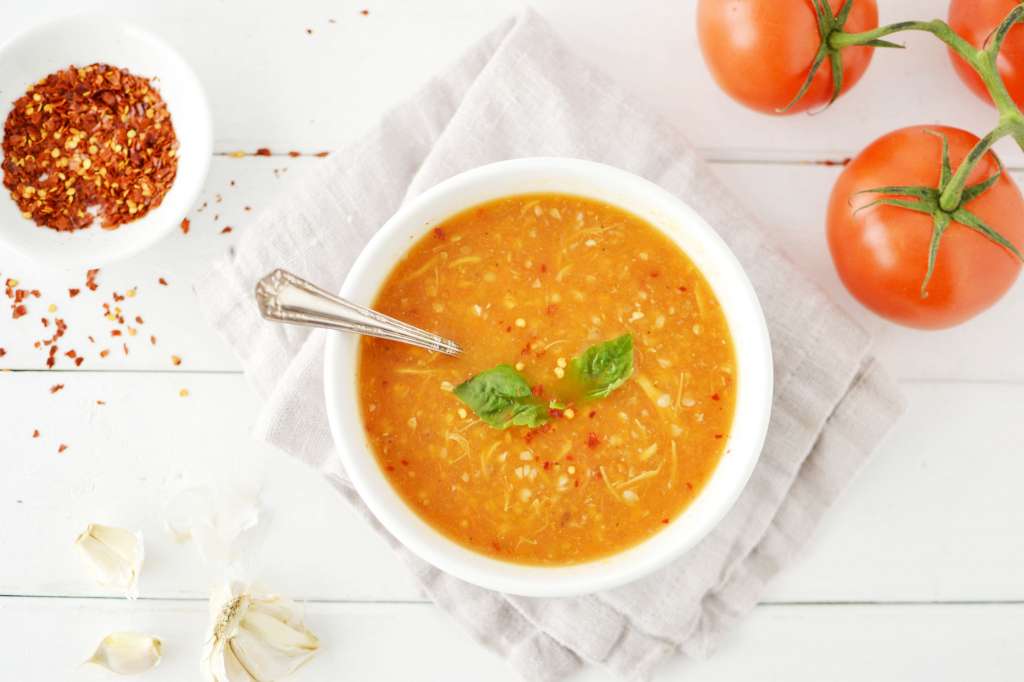 INGREDIENTS:
Pot #1:
Don't worry about getting fancy with the chopping method in this mixture – it will all be pureed! A rough chop is A-OK.
1 cup – chopped red pepper (1 whole red pepper)
2 cups – chopped yellow onion
2 TBSP – pressed garlic
1.5 cups – chopped carrot
5.5 cups – chopped tomatoes (we used ripe, local field tomatoes but use any kind. You'll notice a flavour difference if you use fresh VS canned)
5 TBSP – fresh basil
1.5 tsp – fennel seed (powdered is ideal)
0.5 tsp – chilli flakes
4 tsp – salt
1.5 tsp – crushed black pepper
1 tsp – dried thyme
4 cups – water
Ingredients to Add to Pot #1 (after it's pureed!):
1.5 cups of cooked buckwheat
2 chicken breasts, cooked and shredded/chopped
PROCESS:
Combine all ingredients into Pot #1.
Bring o a boil. Once boiling, turn down to a simmer to cook veggies until soft.
Time to puree the mix! If you do not have an immersion blender, then you will need to use a Vitamix or comparable blender. Blend veggies until smooth. (Tip: if using a blender, do not add boiling water to the mix – just a little bit of water and the softened veggies should be pureed, then added back into the pot with hot water. This will save you from a nasty blender explosion)
Mix in the buckwheat and chicken breasts into the puree mix. Salt and pepper, to taste. Bon App!
TIP: It is up to you how you want to cook your chicken. We cooked many large chickens and boiled them to create broth for our other soups, which is also an option for you. It always helps to have stored chicken broth in the freezer. If you are cooking this soup and want to make the exact amount, then combine two chicken breasts in 3 cups of water and boil until chicken is cooked.