Plant-Based, Healthy, Wheat Free, Dairy Free, Additive/Preservative-Free
Delicious Soups made right here in British Columbia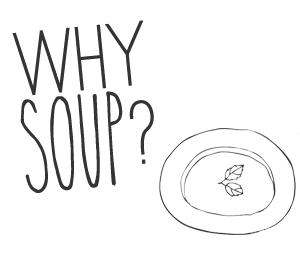 In almost every culture around the world, soup holds rank as one of the oldest traditional dietary staples.
Varieties of soup – from broths to stews – have been used to comfort, revitalize, and deeply nourish people from all walks of life for centuries. The simplicity of whole, naturally-raised foods simmered in fresh water to liberate nutrients and flavours to work wonders for the body and mind is far from folklore. Soup is rich in naturally derived vitamins and minerals made available to the body in just the right balance with all of their accompanying benefits.
In Traditional Chinese Medicine, soup is a central tenant of food therapy where it provides sustenance within moderation. In Mexico, restaurants stay open late serving soup as a traditional hangover cure.  When our bodies are trying to heal, the warm, light and caloric-friendly soup is the quintessential feel-good food.
Yet in today's modern diet, real soup has somehow fallen out of favour. Healing broths that stimulate digestion and boost the immune system have been replaced by a flood of laboratory created alternatives in the form of bouillon cubes, dehydrated soup mixes, and canned "soups" that are not only void of health properties, but full of harmful additives.
By using only the freshest local organic ingredients and leaving out common irritants such as additives, preservatives, dairy, and gluten, our soups are natural, clean and pure. Soup in all of it's low-cal', nutrient-dense and digestible glory can make the perfect healthy meal for growing children, the elderly, the sick, the body conscious, and those who need to fuel their busy lives.