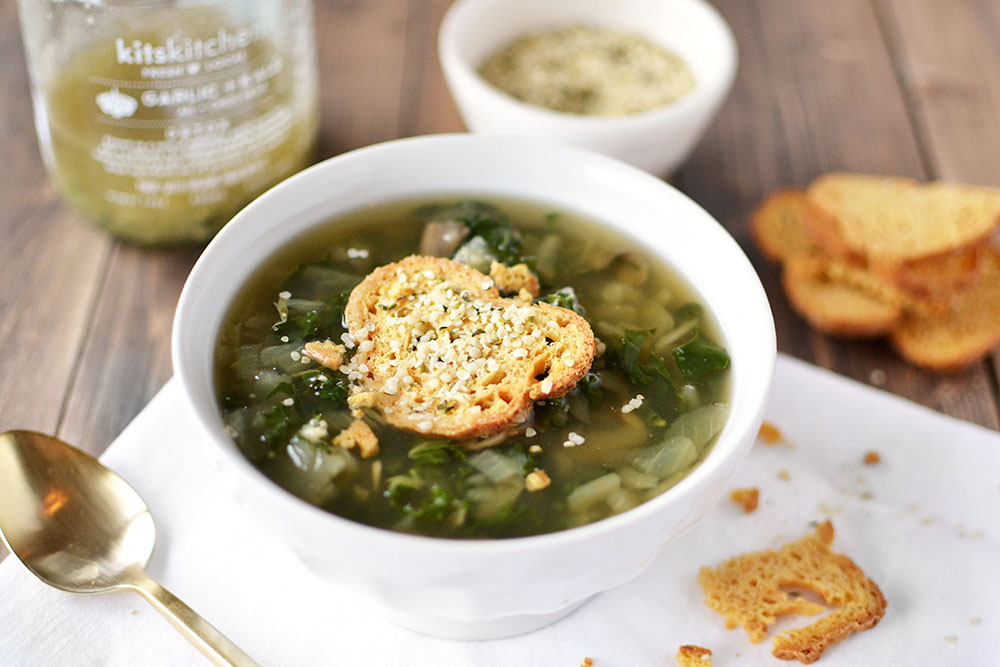 Our Garlic & Kale Detox Soup was originally crafted for our RESET that we launched in 2015. This delicious soup is packed with garlic which is a natural immune booster and is proven to assist with attacking the common cold. According to Healthline a 12-week study found that a daily garlic supplement reduced the number of common colds by 63% compared to a placebo.
Other ingredients include kale which is one of the most nutrient dense foods on the planet. Kale contains fiber, antioxidants, calcium, and high in both vitamin C & K.
We could go on and on with studied that show eating whole, healthy vegetables support a strong immune system however, what we want to do is support our community in staying as healthy as possible by giving them some of our healthy soup recipes. Food is a proven method to support your immune system and posted below is a delicious soup that your family and you will love. Please enjoy!
Ingredients:
3 cups – chopped yellow onion
4.5 TBSP – chopped garlic
6.75 cups – chicken broth or vegetable broth
3 cups – water
4 cups – chopped kale
3 cups – chopped mushroom
1.2 tsp – sea salt
1 tsp – pepper
Process:
Put chopped onion, garlic, mushrooms, salt and pepper in pot with a little olive oil and stir until onions are translucent.
Add broth and water and bring to boil.
Add kale once boiling and lower heat.
Allow for kale to simmer in soup and serve.
Proceed to add any quinoa, rice or grain to bulk up soup if desired and enjoy!