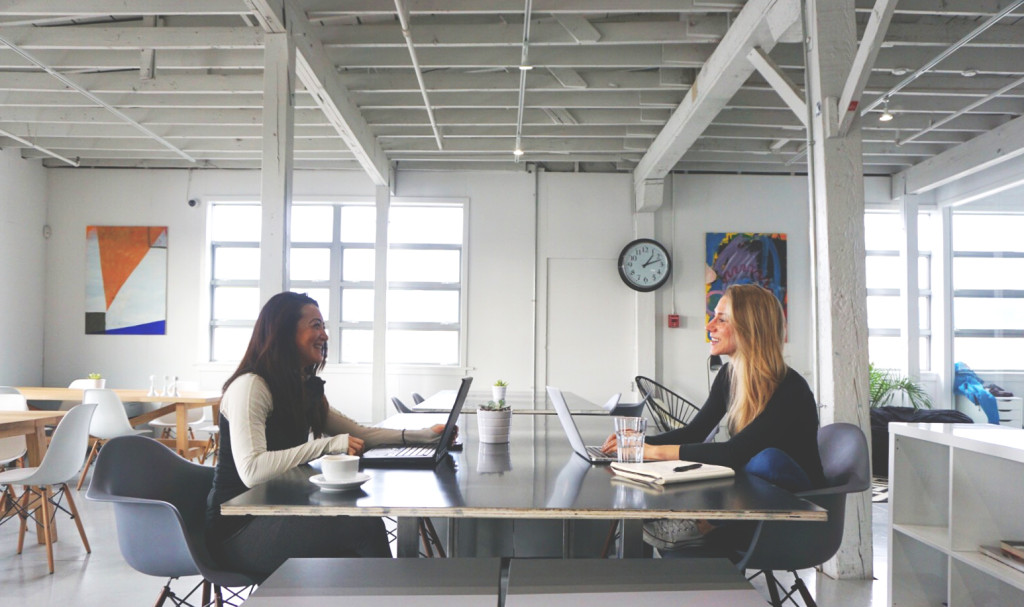 Photo by Werklab Inc. 
In a beautiful heritage building in Gastown two weeks ago, we sat in front of an audience of BCIT students in their last term of their marketing program where we were invited to speak on a panel about building a vision.
While answering questions after we were taken by surprise by the most commonly asked question: how do you make your business partnership work?
Askers were curious because they found (during school projects) that working with peers could be a challenging feat.
While a business partnership and school mates aren't an apples-to-apples comparison, there are some key components that have created a successful working relationship for us.
How we became partners
We met each other through our boyfriends, and while we had some friendly get-togethers and had spent some time together, the formation of our partnership had a little bit to do with luck; we didn't really know each other or anything about our performance in a work environment, or working compatibility before we started working together.
It's the luck that we ended up being pretty aligned in that department.
However, we believe there are a few other components that helped us to achieve a successful business relationship, and it's summed up by core beliefs, attitude and agreements.
5 Key Things That Create A Successful Business Partnership (in our experience)
1. Work Ethic and Investment
If one partner has a stronger work ethic, it leaves opportunity for resentment. Or if one partner has a higher investment in the business, the other might feel that they are simply not as accountable.
For this reason important to find someone who cares about the company as much as you do, who you share a common goal with. For new partnerships, it's important to address this right in the beginning before any issues even arise so the expectations are set.
We fully dove in with both of our feet and haven't looked back. We live and breathe our company, sometimes at the demise of our personal life and relationships. Some might see it as a sacrifice but to us, nothing is more exhilarating than building this company, and it makes it more rewarding when we've hit those milestones and we have someone to celebrate with.
But none of that would be true if we weren't both committed at the same level.
Also worth mentioning: we never found ourselves blaming the other for a mishap, and instead focus on how to find a solution to it. We believe this is because we are 10000% certain that we're both always giving our hardest and trying our best.
2. Defined Roles & Responsibilities
If you Google "what to look for in a business partner", one of the main points is always to find a partner that brings something to the table that you don't.
This was not necessarily true in our case. People assume we have different strengths. While this is true to a certain extent, we actually share very similar skill sets and strengths.
Because we both can wear multiple hats, it took us a while to clearly define our roles and responsibilities. Now that we have, it's made a world of difference in our productivity!
3. Putting the Business First
This is an ability that surely many partners struggle with, especially when it comes to making impacting decisions. It feels great to be right, or for your decision to stand (ie. Ego).
Can it be difficult? Frustrating? Sure, at times. But we find it's incredibly important to be able to put these emotions aside to see, from outside of the box, what makes sense for the benefit of the company from a long term, strategic perspective.
Even during a disagreement or moment of frustration – we always communicate with each other and put the work first.
4. Being Ethical, 

Reliable

 and Honest

This should go without saying but always being all of the things above ensures trust. And in a close business partnership (like a marriage), trust is vital.
Always remember that your partner represents you and your company and that you can count on them. You should be proud to be on the same team.
5. Legal Agreement
A business partnership is directly comparable to a marriage, and today marriages have a 50% survival rate. The most challenging time of our partnership was when drawing up our Shareholder's Agreement.
The toughest part is imagining the worst case scenario (divorce), because who wants to think about things not working out? But it's important to come to terms everyone feels good about while protecting all parties. Having those expectations legally written out leaves zero space for the most important questions.
Every partnership is unique. We're still learning how to build a company – but because of our strong partnership, we're able to focus on things that drive us forward.
Thoughts? Questions? Email us!
hello@kitskitchen.ca