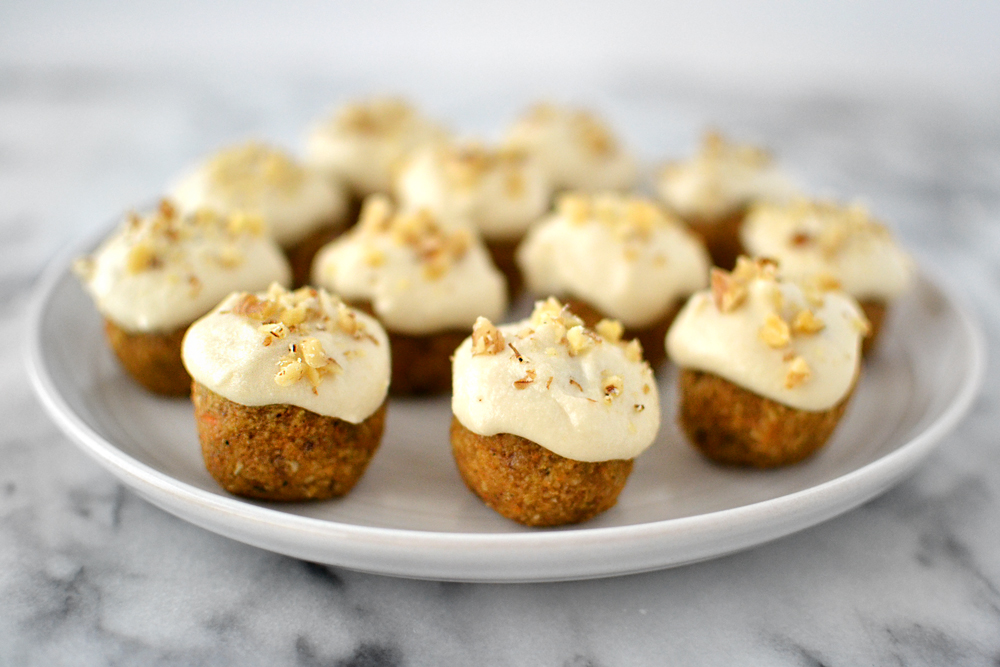 Easter is almost here and whether you celebrate it or not, we bet you can't resist a slice of carrot cake!
Or better yet, raw, vegan, gluten-free (aka GUILT-FREE) carrot cake bites! We combined two recipes from two amazing health-conscious food bloggers to create these little bites of carrot, creamy goodness. The carrot cake balls from Joyous Health are packed with shredded carrots, coconut, dates and hemp hearts, making them a great source of fibre. The cream cheese frosting from Love and Lemons tastes amazingly like the real thing but is made from macadamia nuts and cashews!
These are super easy to make, the only difficult part is waiting for the carrot balls to chill and the nuts for the frosting to soak! We suggest making the balls the night before while the nuts soak and then all you have to do the next morning is blend up the frosting.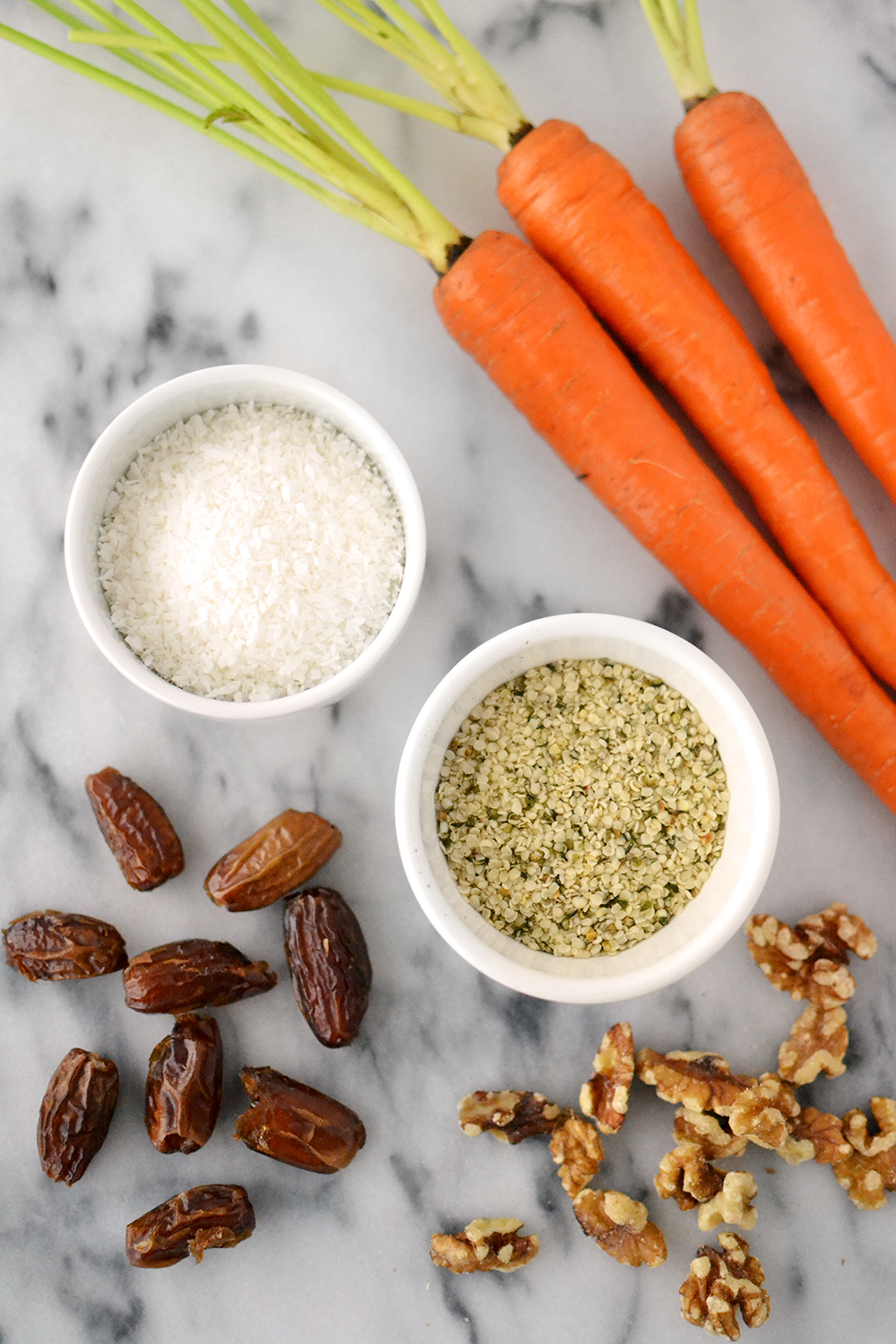 Ingredients – Carrot Cake Balls
Recipe adapted from Joyous Health 
1/2 cup unsweetened shredded coconut
6 medjool dates, pitted
3/4 cup walnuts
1/2 cup shredded carrots
1/4 cup hemp seeds
1/4 cup maple syrup
1 tsp pure vanilla extract
1 tsp cinnamon
1/4 teaspoon nutmeg
1/8 teaspoon ground cloves
Ingredients – Cream Cheese Frosting
Recipe adapted from Love and Lemons
1/4 cup raw macadamia nuts (soaked for 3-4 hours or overnight, drained and rinsed)
1/4 cup raw cashew nuts (soaked for 3-4 hours or overnight, drained and rinsed)
2 tbsp almond milk
2 tbsp maple syrup
1 tbsp coconut oil
2 tsp fresh lemon juice
1/4 tsp salt
2 tbsp chopped walnuts for sprinkling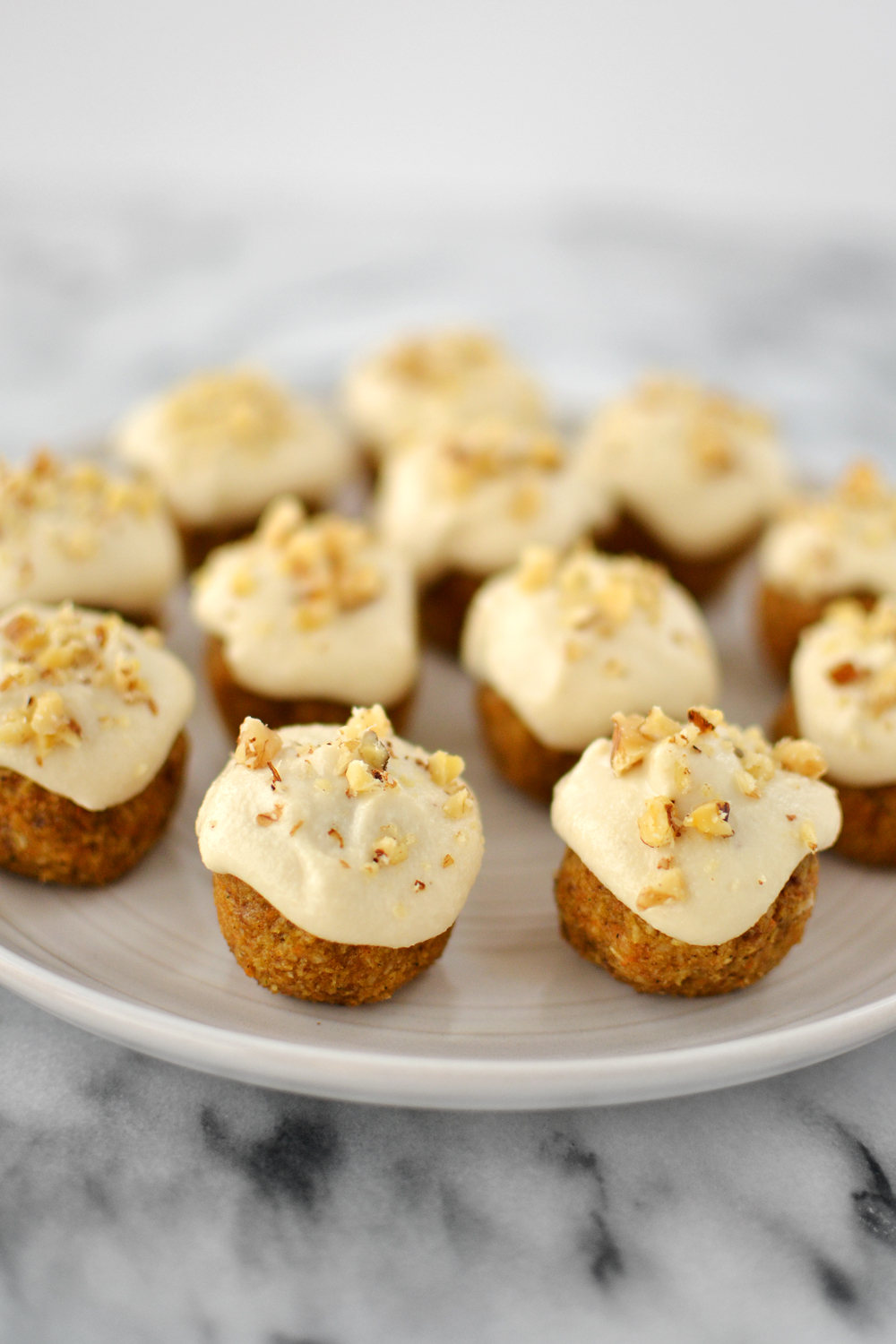 Instructions
For the carrot cake balls, combine all of the ingredients together into a high-powered food processor and process until fully combined. Roll mixture into 1-inch balls and place onto a baking sheet or into a container. Place in the freezer for a few hours or overnight (we went with overnight!)
For the frosting, combine all of the ingredients into a high-powered food processor and blend until very smooth, scraping down the sides occasionally. Add more almond milk if needed. Place frosting in the fridge for about an hour to firm up.
Dollop about 1 tablespoon of frosting onto each ball and sprinkle with chopped walnuts. Store in the fridge or freezer.
Enjoy!!