'Tis the Season…of PAYING IT FORWARD!

In October, we went to a long table Thanksgiving dinner that was hosted by our good friend Alex (owner of The Juicery Co) and FAM&Co. It was there that we met Ron Suzuki, the driving force (his official title is Community Recreation Director) behind the Strathcona Community Centre's efforts of planning – and implementation of – food and recreational programs that support the children of Vancouver's Downtown East Side.
It was also there that we were made aware of the need of food security and after school recreational programs for the children of the DTES.
Did you know that 2,000 children in Vancouver aren't getting enough food every day?
We didn't. With the cost of living at being one of the highest in the world, Vancouver can be challenging to live in. But no one, especially children who will grow up to shape the future of our community, should have to go hungry, to show up at school tired, unfocused, agitated.
Since 1972, Ron has been an active leader of the Backpack Program, designed to organize, and supply, meals to children who come from families needing government support.
The Facts
British Columbia lacks a poverty reduction plan and maintains the highest rates of child poverty in Canada. This is one of the most expensive places to live in the world and minimum wages do not support costs of living for thousands of families.
Impoverished children in Vancouver rarely get 3 meals in a day.
Approximately 2,000 children go hungry every day in Vancouver.
Another 1.7 million dollars is needed to support emergency food programs, and charitable donations are the only source organized for this.
On December 10th, join us to support the children of the Downtown East Side!
So here are the deets!
To drive donations, hot kitskitchen™ soup will be sold at The Juice Truck, The Juicery Co and Nectar Juicery, in Vancouver and North Vancouver.
Come down to one of our partner's locations (below) to join us to support this cause!!! We guarantee it'll be the best bowl of soup you'll ever have because you know you're helping to nourish children in need with healthy food!
100% of the proceeds from the sales will be donated to the Strathcona Community Centre.
Ron says that they will use the donations to implement an after school healthy snack program, which currently supports 215 children (and growing).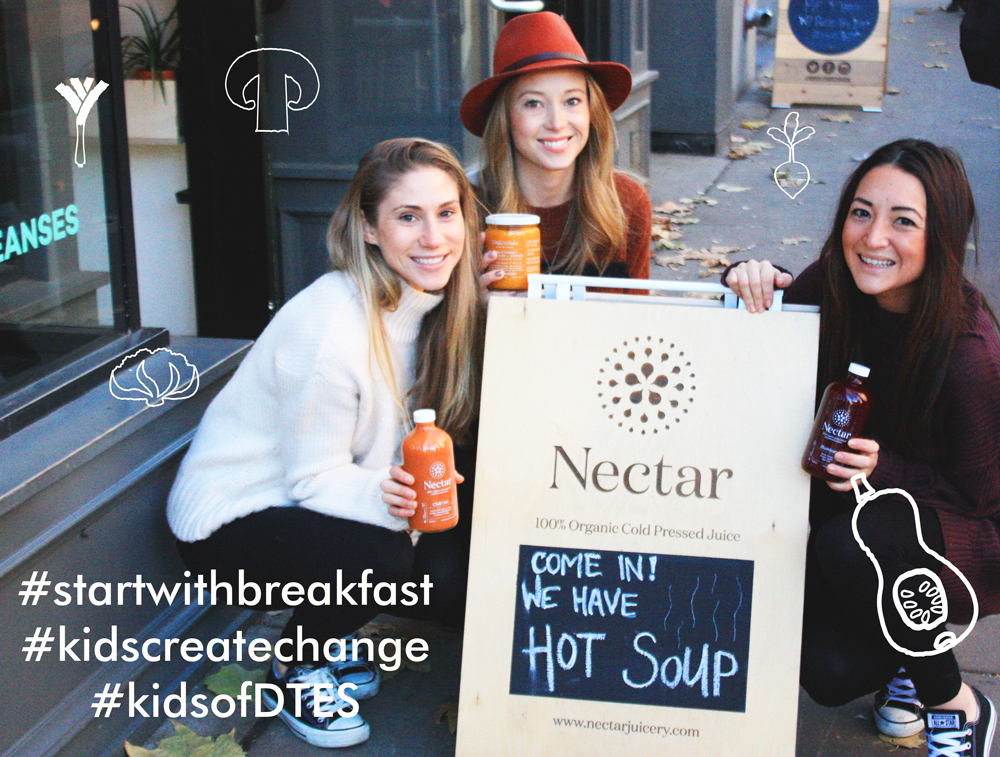 The Fine Print
Date: Thursday, December 10, 2015.
Locations:

The Juice Truck, on the truck (Abbott and Water, Gastown)
The Juice Truck, retail store (28 W 5th Avenue, Vancouver)
The Juicery Co Lower Lonsdale (254 E 1st Avenue, North Vancouver)
The Juicery Co Edgemont (3130 Highland Boulevard, North Vancouver)
The Juicery Co Kitsilano (3570 W 4th Avenue, Vancouver)
Nectar Juicery (102 W Hastings Street, Vancouver)

Suggested Donation for a Bowl: $4.00. Soup will be served all day during regular store hours.
On the menu: Butternut Squash + Ginger soup made with all organic, locally sourced ingredients, is wheat free, dairy free and vegan. Made by hand in small batches by the girls of kitskitchen.
100% of proceeds will be donated to Strathcona Community Centre's Backpack Program led by Ron Suzuki. Specifically, proceeds will support the after school healthy snack program which feeds approximately 200 children per day.
How to Get in Touch
kitskitchen™ Health Foods
Contact: Joni Lind  and Amy Kizaki
hello@kitskitchen.ca
778 968 1987 / 778 855 0841
www.kitskitchen.ca
Additional Links on the Topic
http://www.vancouversun.com/business/Daphne+Bramham+will+feed+Vancouver+hungry+school+kids/10884867/story.html
http://www.vancouversun.com/life/Adopt+school+Strathcona+Community+Centre+supports+DTES+families+with+food/11538847/story.html
About kitskitchen™ Health Foods
kitskitchen™ produces healthy, natural and organic soup and spreads made from ingredients sourced in British Columbia. kitskitchen™ products can be purchased at various retailers in the Greater Vancouver area as well as on our online store.
Twitter: @mykitskitchen
Instagram: @kitskitchen
About The Juice Truck
Founded in 2011, The Juice Truck is Vancouver's first and original Cold-Pressed Juice Company. You can find our truck at the corner of Water and Abbott Street in Gastown, Visit our new Store at 28 West 5th Avenue or order our juice online through our store.
Instagram: @thejuicetruck
About The Juicery Co
The Juicery Co. is a cold pressed juice and nut mylk shop that delivers throughout the Metro Vancouver area.
Instagram: @thejuiceryco
About Nectar Juicery
Nectar represents the essence of life. Our juice is lovingly pressed to help you feel your best. To feel regenerated to the very core of your being. To be able to live a full, happy life, in even the most fast-paced world.
Instagram: @nectarjuicery